While the prevailing theme for the NATUZZI Re-vive recliner is "LOVE DOING NOTHING", the NATUZZI team has done much more than nothing with their design for the Re-vive Consumer Brochure. The design team needed to create a brochure that would not only represent the craftsmanship and beauty of their product, but would also enhance and support their marketing and sales goals.
Check out what they've done with a few design, print and coating techniques to create an amazing brochure. Grab a sample while you're at it.
---
Paper Selection
NATUZZI chose HannoArt Silk for both the cover and text stock. The silk finish of this paper gives the brochure an elegant tactile feel – it matches perfectly with the rich textured images and illustrations and it will honestly make you want to run your fingers across every page.
Cover / #111 HannoArt Silk Cover
Text / #100 HannoArt Silk Text
Print & Coating Techniques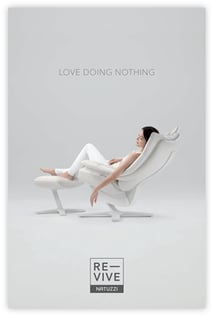 To create the cover took a combination of advanced print and coating techniques that resulted in a beautifully printed and protected
brochure
that will continue to look and perform incredibly.
The cover was first printed four color process plus one spot color with the exception of the headline and logo.
The outside of the cover was then laminated with a 1.2 mil scuff resistant matte nylon film that gives the cover a smooth soft touch feel. The ultra-thin film provides excellent scuff, scratch and tear resistance and ensures that the cover will lay flat and prevent it from curling. This type of laminate is ideal for single sided applications like an outside cover that requires the extra protection.
Best Part: A spot color and gloss UV raised-effect spot coating were applied to print the logo and headline on the already printed and laminated outside cover. This technique adds incredible eye-catching depth and dimension as well as a striking contrast between the matte laminate and glossy raised UV coated logo and headline.
The inner pages of the brochure printed four color process plus one spot color with an overall aqueous soft touch coating. The soft touch coating not only provides good protection from fingerprints and other blemishes but it gives the brochure a leather-like feel that fits well with the Re-vive recliner's upholstered finish.
Binding Techniques
The brochure is bound together with a simple saddle stitch.
Augmented Reality
The back cover plays host to an augmented reality experience - when a mini-marker is scanned into the NATUZZI Re-vive app - the consumer is able to customize a Re-vive recliner with over 400 different combinations of styles, sizes, coverings and colors. Even more – the mini-marker enables the app to render the customized 3D recliner in your room to see how it looks in your space!
---
The NATUZZI team did an amazing job blending print and coating techniques to create a brochure that accurately represents their brand and product. But you don't have to take my word for it - find out for yourself by requesting a sample of the Re-vive Consumer Brochure below – and don't be surprised if you find yourself daydreaming about relaxing in a NATUZZI Re-vive recliner…