May 20, 2015 at 8:00 AM
Design Great Mail Guide 1.0 with Print Enhancement Techniques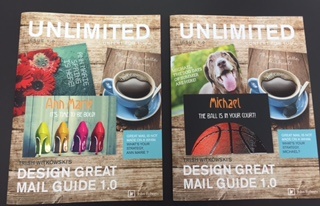 The UNLIMITED - Content for You! publication kicks-off our Direct Mail(Simplified) Series with content from Trish Witkowski, foldfactory.com. We are excited to also introduce two print enhancement techniques - Scodix Coating and motioncutter® digital high-speed laser die cutting to our suite of product offerings. Both of these new additions are showcased on the cover of the UNLIMITED publication.
UNLIMITED - Content for You!
Trish is known for her groundbreaking industry research in the area of mail and folded formats and has built a body of proprietary educational content that provides you with a foundation to get better results from your direct mail campaigns. Through the UNLIMITED - Content for You! series, you will learn about the process of creating effective mail through a workflow of strategy, optimal format choice and analysis.
A few key messages from this first issue are:
The importance of creating a customized marketing message that is tailored to the interests and needs of the recipient.
That direct mail is a different beast, and the secret to success is in the audience that the mail piece is going to, and in the irresistibility of the offer that will be presented to them.
How important choosing the right format is that works for you and your audience.
SCODIX
Scodix is a print enhancement coating technology that transforms the ordinary into the extraordinary with eye-catching impact leading to higher response rates. A few of the main features are:
99 gloss units - the highest gloss available for printed materials
Up to 250 microns in polymer height, 100 times higher than spot varnish
Variable density capabilities ranging from 1% to 100%
Ability to vary the density of the polymer creates textures from "sandpaper" rough to "silky" smooth.
motioncutter®
Born through necessity, the motioncutter® was conceived, developed and manufactured by a German printer to create personalized mail, packaging, plastic signage and more. The motioncutter® not only cuts, engraves and perforates - it also adds a new dimension in personalization through namecut. The best part is, all of these functions can run simultaneously for each sheet, all together in one step.
Interested in receiving your own personalized copy of UNLIMITED - Content for You! Design Great Mail Guide 1.0?
Video run through:
INSIDER
Become An Insider