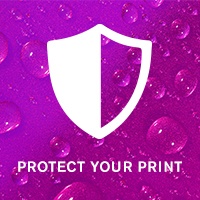 When you are planning your next print communication project, don't forget to think about a few key project elements:
Who will be using the print piece?

How will the piece be used?

Where will the piece be used?

How long does the piece need to last?
If you can answer these questions - then you are ready to make an educated decision about your print protection needs. As you can imagine, there are quite a few options out there - one of the most effective and low-cost options is aqueous coating.
What is Aqueous Coating?
Aqueous coating is a water-based coating that is primarily used to protect print projects from fingerprints, scuffing and other handling blemishes. Aqueous coating is commonly used because of its low-cost and ease of application. It is available in gloss, satin and dull finishes and is typically applied as an overall flood coating.
Aqueous can also be used to provide interesting tactile enhancements to a print piece. One popular variation is a soft touch coating which adds a soft, velvety feel along with a rich matte finish. This effect would typically be accomplished by applying a more expensive matte film laminate to a project.
Aqueous Coating Applications
Aqueous coating is great for a wide variety of applications - here are a few of the most commonly used:
Direct Mail - Aqueous coatings can be used to protect printed pieces as they deliver through the USPS. Equipped printers are able to inkjet and UV variable print directly on top of coated pieces making aqueous a popular selection for direct mail.
Magazine and Report covers - Publications that are subject to rough or frequent handling benefit greatly from a protective coating applied to the cover.
Heavy Black Ink Coverage - Rich, dark ink areas tend to be more susceptible to showing fingerprints, applying aqueous to these areas can protect against this.
Metallic inks - Applying aqueous coating will protect metallic ink from air and prevent it from tarnishing.
Other Effects - When used with other print coatings (varnish & UV coatings), additional visual and protective print enhancements can be achieved.
Aqueous Coating vs Varnish
Aqueous coating has a handful of advantages over varnish worth noting:
Higher abrasion and rub resistance
Shinier and smoother finish
Can be written on or overprinted by inkjet printing
Will not yellow when applied over areas with white space
Faster dry time
Environmentally friendly - no VOCs
Considerations
Aqueous can be used as a spot coating, but it is difficult to achieve the same precision as can be achieved with varnish.
Like UV coatings, when used with select PMS colors like warm red and reflex blue - there is a chance of chemical burning which can alter the appearance of your project by changing color or adding unwanted bleed or burn out. Talk to a reputable printer to address any concerns you may have.
Paper Selection
Aqueous coating is best used with coated paper - the surface of coated paper ensures that the coating stays on top of the paper and goes on smoothly. We recommend that you use a minimum 80# text weight or heavier to be sure the paper doesn't curl or wrinkle from the liquid coating.
---
While aqueous coating isn't the only print coating available, the protection and enhancement benefits it delivers may align perfectly with your project.
If you have any questions about your print communication projects -
connect with one of our print marketing experts
. Check out the print coatings sample kit if you'd like a more hands-on experience with how other organizations are using aqueous coating to protect and enhance their print marketing!