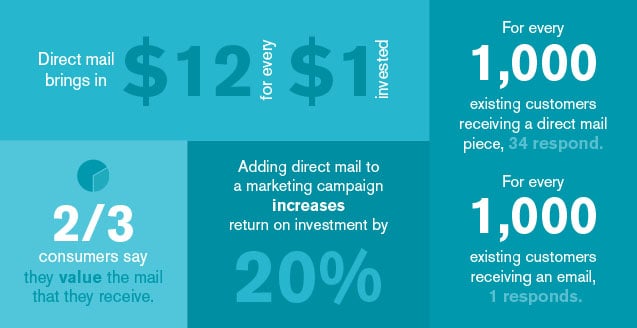 Perception versus reality can be two entirely different things. If you were to do a random survey of people who are not in the direct marketing industry and asked them what the most powerful marketing channel is today—offering choices of TV, Radio, Direct Mail, Email and Social Media—no one would choose direct mail. No one. As a matter of fact, I would be willing to bet some money that direct mail just might come in last, based on the image problem that mail has suffered in the digital age. Everyone who isn't in the direct marketing space thinks print is dead, or at the very least they think that it's low-tech and lame with a capital "L."

Well, not so fast, my friends. I'm going to let you in on the industry's best-kept secret. Direct mail is not only alive, it's more powerful than ever. Take these current stats, for example:
For every 1,000 existing customers receiving a direct mail piece, 34 respond on average. For every 1,000 receiving an email, 1 responds on average.

(DMA 2012 Response Rate Report)




On average, direct mail brings in more than $12 for every $1 invested. That's 12:1 ROI

(DMA 2012)




Nearly 2/3 of consumers told the USPS that they value the mail they receive


Adding direct mail to a marketing campaign increases return on investment by 20%. In fact, online components were 62% more successful when combined with print (

Meta Analysis of Direct Mail, conducted by marketing analysis firm Brand Science, as reported, Print in the Mix, June 2011)




According to mail services provider Compu-Mail, 70% of Americans believe postal mail is more personal than digital


69% of 18-24 year olds say they actually prefer print and paper communications to reading off of a screen (Two Sides Study, January

2012)




Direct Mail is preferred 2:1 over email and telemarketing combined

(Print Council and USPS)




Direct mail is responsible for 95% of revenue for nearly all nonprofit organizations

(Third Sector Today)




Neuroscience has proven that print actually leaves a deeper footprint in the brain; print is a wonderful carrier of technology, and on, and on...
So, if mail is so amazing and valuable, why does everyone call it "junk"? I'll give you the quick answer to this question: mail has to have a singular goal and a clear message, a timely arrival, and a compelling offer that is relevant to the recipient. Frequency is important, too. You can't just pop up out of nowhere every 6 months and expect customer loyalty.

Many marketers make the mistake of sending what I call "fail-mail"—confusing, irrelevant, overly-ambitious, even obnoxious mail. Mail without a strategy, mail that misses the mark, mail that can't win. Even great-looking mail can lose big. Mail is different from advertising and brand design, and this is often where marketers make their mistakes.

With direct mail, the most important thing to focus on is your audience. You have to get into the hands of the right people. It all starts with Ed Mayer's 40/40/20 rule from the 1960s—40% of the emphasis goes to the audience, 40% to the offer and 20% to the creative. These days marketers argue that the 40/40/20 rule is now more like the 60/30/10 or the 60/20/20. The audience is 60% of the importance, due to the technology that exists today that offers us the ability to highly target our audiences. After all, the greatest mistake you can make in mail is to send your mail to the wrong list, because you can't correct irrelevance.

Once you have your audience, you need to craft a compelling offer, and sell it. The written word is the greatest driver of response in mail. Test, test, and test again. What works in mail is not always what you think, so you will need to figure out what works with your audience and focus on continually improving response. Connect with your targets, frequently, and build on a relationship. If you follow these basic tips, you'll be on your way to success with mail.


Remember: Send mail. It works!