Every interaction your customers have with your brand is an opportunity for you to connect and engage with them. Your customers have come to expect your marketing to be relevant, timely and ultimately useful. Deluxe Corporation understands this and designed a self-mailer that is visually striking, highly interactive and personalized for every recipient.
We've chosen to showcase this project because we love the creative self-mailing format, skillful data-driven personalization, cutting-edge print, coating (including Scodix), and finishing techniques. Learn more about out how Deluxe Corporation partnered with John Roberts to create this project.
Paper Selection
Deluxe chose to use Blazer Digital Satin Cover for the folded self-mailer. This particular stock has been certified for use on most digital presses, including the HP Indigo 10000 on which it was printed. The satin finish provides a gloss level somewhere between a matte and gloss finish. The coated stock is sturdy and durable, and it provides sharp and vivid color reproduction – a great choice for a direct mail project.
Print & Coating Techniques
Both sides of the self-mailer were digitally printed on a HP Indigo 10000 press. The 29 inch format of the HP 10000 allowed the digitally printed 23 3/8" x 18" folding to 6" x 9" mailer to fit onto one sheet.
Once digitally printed, a spot UV soft touch coating was applied to all imaged areas to provide an overall soft, velvety smoothness and matte finish. The coating will also serve to provide protection from scuffing and other blemishes that can occur during mailing and handling.
Raised, high gloss Scodix coating was then applied in a weaving "D" for Deluxe pattern on both the inside and outside panels. This coating enhancement makes the self-mailer so distinct that you can't help but want to get your hands on the piece - you'll love the feel of the raised glossy patterned grooves complimented by the overall soft touch feel. The membership card also had a clear, 100% density, gloss Scodix coating applied that enhances the depth and tactile performance of the piece.
Finishing
The printed and coated sheets were simultaneously die cut, scored and perforated in preparation for hand-folding and gluing. Perforations were used for the raised shelf that presents the membership card so that the piece would lay flat when closed and pop-up when opened. Finally, 1 ½" translucent tabs were added to finish the piece and prepare it for both USPS and Canadian mail entry.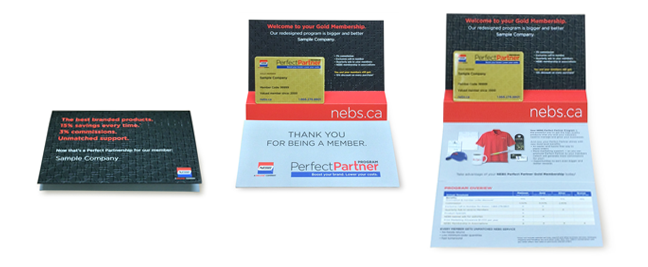 Personalization
Deluxe leveraged company information, contact information, membership level, membership history and membership benefits data to create a highly personalized relevant message for each and every recipient.
Interaction
Upon opening the piece, a personalized membership card pops up on a raised shelf created by the perforated panels. This technique provides real depth and volume to the mailer and adds a visual contrast with both color and sheen. The bottom panel that is initially folded, thanking the recipient for being a member, opens to present two additional panels of information regarding the membership benefits as well as a program overview. This self-mailer format offers great space for content, and Deluxe has done a great job utilizing the panels with well thought-out imagery and copy.
---
Deluxe has done an amazing job developing this folded self-mailer that does so many things right. But you don't have to take my word for it - find out for yourself by requesting a sample before they are gone!