June 16, 2020 at 10:05 AM
Eliminating Dirty Little Secrets: New Antimicrobial Coating on Print Can Boost Cleanliness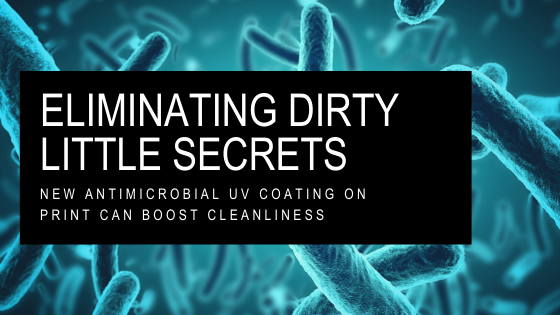 As the whole world attempts to find a path forward in the midst of the COVID-19 fallout, The John Roberts Company is proud to unveil an antimicrobial UV coating identified by our lead chemist and research and development team. Though this UV coating cannot ensure that COVID-19 specifically won't be transmitted on printed items, it can greatly decrease the danger of certain infamously-grubby products.
What Is An Antimicrobial UV Coating?
First and foremost, it's important to draw the distinction between antimicrobial and antibacterial. Antimicrobial items either destroy or prohibit bacteria, viruses, parasites, and fungi; antibacterial agents work specifically to destroy or prohibit bacteria. In turn, antibacterial items are a type of antimicrobial, but antimicrobials are more overarching and can mitigate unseen threats of all sorts.
Our antimicrobial UV coating is based on silver ion technology, which has been utilized for centuries with no ill effects so the technology is based on sound, time-tested principles. The antimicrobial properties of the coating never wear off or leach out, and the coating is designed to last for the lifetime of the product.
How Does The Antimicrobial UV Coating Compare to Standard Coating?
While this antimicrobial coating is slightly more expensive than a standard coating, it comes with the assurance that it is rub-resistant and will last for the entire duration of the product's lifespan on top of its obvious health benefits. For those concerned about aesthetics, this antimicrobial UV coating is sure to prove satisfactory.
This new coating has the same look and feel of our standard UV coating, and comes
in either a gloss or satin finish, so printed products will still look phenomenal while
actively warding off unseen threats.
What Types of Products Are Ideal for Antimicrobial UV Coating?
Anything that is reused or passed between multiple people is perfect for antimicrobial UV coating. One of the most obvious applications for this technology is menus at restaurants, which are often touched countless times before they are discarded, but there are virtually limitless situations in which this coating could prove useful, even if your chief concern is product longevity rather than the minimization of germ threat.
In addition to mitigating the spread of germs, antimicrobial UV coating can also preserve the integrity of printed materials; many microbes can cause stains, odors, or degradation over time if left to their own devices. The 24/7 antimicrobial properties of this coating will keep products looking and feeling clean and fresh for as long as possible so less money has to be dedicated to reprinting. In this moment where cleanliness ranks chief among concerns for businesses, efforts like this antimicrobial UV coating can prove instrumental in simply and effectively guiding health initiatives.
To learn more about this antimicrobial UV coating, contact The John Roberts Company and let's discuss potential applications.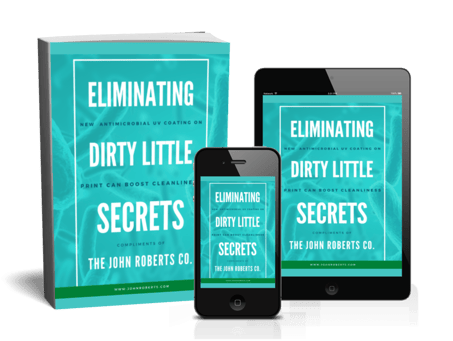 INSIDER
Become An Insider