Savvy marketers know that utilizing multiple channels is the best way to reach a targeted audience. However, some choose not to utilize what is arguably the king of all marketing, Direct Mail. The reasons why are varied and sometimes based on incorrect assumptions, but the most common reason is cost. Those with a tight budget may not believe they can afford to include direct mail in their marketing mix. Others have experienced impressive results and automatically include direct mail. Whether you think you can't afford it, or are absolutely committed to using direct mail, there are options to fit any budget that you can count to achieve a winning ROI.
The following guide is designed to help you determine which type of mailpiece suites your needs and works with your budget.
Postage
The postage required for mailing your project can vary tremendously. Determining factors include dimensions, weight, preparation, quantity and type of service. First Class mail is a higher cost than Standard mail, but the delivery time is faster and any mail that is undeliverable is automatically forwarded or returned to sender. The postage rates for Letter sized mail is approximately half that of mail categorized as Flats. Mail prepared with Intelligent Mail Barcodes and placed in USPS mail trays in a specific sortation order will qualify your mail for postal discounts. This requires postal software and is generally handled by your printer or mailer. Non-Profit organizations can apply to the USPS for authorization to mail at the lowest available postage rates. The USPS has many rules and requirements which must be adhered to in order to qualify your mail for discounted rates.
Get a free 2016 Postage Rate Chart.
Visit Postal Explorer to view and download USPS Quick Service Guides.
Postcards
Postcards measure 3-1/2" x 5" up to max size 4-1/4" x 6" and must be a minimum of .007" thick, also called 7pt. Postcards can be mailed at First Class Mail postcard rates or at Standard Mail letter rates. Production typically includes conventional press printing sheets of your chosen paper stock with several cards per sheet, cutting the sheets down to individual cards, followed by addressing and mailing.
Postcards printed on 7pt paper stock are the least costly entry into direct mail.
7pt hi-bulk paper is inexpensive and available in various colors, perfect for printing in black ink only on both sides of a bright colored paper like yellow or lime green.
If you are printing a postcard in color consider using a satin or gloss coated paper stock. The coating helps prevent ink absorption into the paper fibers, resulting in a higher quality piece.
Depending on the quantity it may be more cost effective to digital print the cards.
Oversize Postcards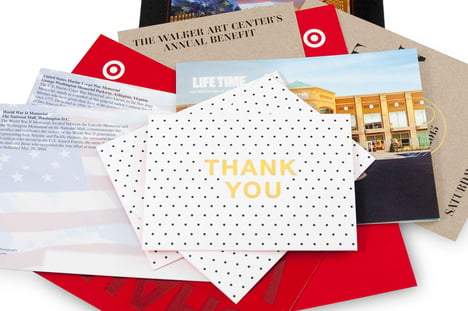 Oversize Postcards are also called Jumbo Postcards and Letter Size Cards. These cards are categorized as letters by the USPS and are larger than 4-1/4" x 6", up to a maximum size of 6-1/8" x 11-1/2". The print production methods are the same as postcards. The USPS requires letter size cards to be a minimum 9pt (.009") thick. The heavier paper stock costs a bit more and you will be using more of it, but the extra size allows more space for your copy and graphic images.
Oversize Postcards have one of the highest response rates of all direct mail types.
The USPS letter processing equipment tends to cause scuffs and scratches so adding a protective aqueous, varnish, or UV coating is recommended. In addition to protecting your card, coatings add luster and shine.
Printing in 2-colors instead of 4-color process will save you some money, but the drawback is the challenge in creating a card design with visual impact. Printing in 4-color process allows accurate reproduction of photos and enables designers much more creativity.
If you digital print your cards it is possible to include the mailing address and barcode, plus variable images and unique personalization of every card.
Envelope Mailings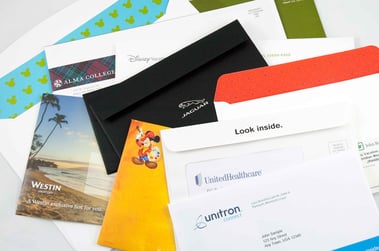 Envelope mailings can be inexpensive or break your budget, depending on the choices you make. A good example of the most affordable envelope mailing is a 1-color generic letter inserted into a #10 (4-1/8" x 9-1/2") 1-color envelope, inkjet addressed, sorted and mailed at Standard postal rates. There are many envelope sizes available. The most commonly used in direct mail include #10, 6" x 9", and A7 envelopes which measure 5-1/4" x 7-1/4".
Non-personalized (often called generic or static) 8.5" x 11" letters folded and inserted into ink jet addressed #10 or 6" x 9" closed face envelopes will cost less than a personalized letter mailed in a window envelope. This is because ink jet addressing envelopes costs less than laser personalizing letters, and closed face envelopes cost less than window envelopes.
If you personalize both the letter and the envelope you will pay more because you need variable printing on more than one component, the components must be kept in exact order during bindery work, and the name/address on the letter and envelope must match when inserting. This is called a 2-way match and is typically done with camera systems which read a small, 2D barcode during inserting. If a mismatch is detected the inserter shuts down.
1-color and 2-color envelopes are often printed on pre-converted envelopes. Pre-converted envelopes are most commonly produced on 24# white wove paper in large quantities and stocked for later use, making them inexpensive.
If you want a specific paper stock or your artwork includes color bleeding over the edge of the envelope face or printing on the inside it will be necessary to press print, die-cut and convert. Custom envelopes cost much more than pre-converted.
Inclusion of additional components such as brochures, reply cards, or reply envelopes will increase your cost. Obviously each item you wish to include in the envelope has its own price to produce.
Your piece must be less than ¼" thick or it will be categorized as a Flat and your postage will almost double.
9" x 12" envelopes mail as Flats and are typically used for mailing multiple items. Flats can be up to ¾" thick, enough space to accommodate thick brochures and manuals. Many mailers can only insert a maximum of 6 items into a 9" x 12" envelope by machine. More than this requires inserting by hand, which will considerably increase the cost.
Self-Mailers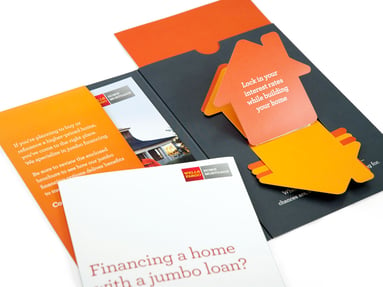 Folded Self-Mailers can be as small as 3-1/2" x 5" up to a maximum size 6-1/8" x 10-1/2". The cost to produce self-mailers can be roughly the same as oversize postcards, but generally cost a bit more. A sheet measuring 11" x 17" that quarter folds to 5-1/2" x 8-1/2" is a good example of an affordable, folded self-mailer. The paper stock can be lighter weight text because after folding to the finished size they meet the minimum 9pt thickness requirement to mail as letters. The lighter weight paper costs less than heavier cover stocks, but the additional bindery work of folding and either glue sealing or tab sealing with wafer seals adds cost.
Smaller sheets may need to be printed on heavier paper in order to meet the 9pt thickness requirement. For example, a piece with a flat size 17" x 5" folding to finished size 5" x 7" needs to be printed on cover weight paper stock. Scoring is necessary to prevent cracking during folding.
A self-mailer printed on cover stock can include a perf-off reply card which meets postal requirements for the recipient to mail back without the need to use an envelope.
There is great flexibility in designing folded self-mailers. Some fold in thirds, others roll fold with 4 or 5 folds, and some include special die-cut shapes and multiple folds.
One important consideration is the orientation of the address panel in relation to open or closed edges. As a rule you want a fold or closed edge at the bottom of the address panel. There are various USPS requirements related to how self-mailers must be sealed dependent upon the way a piece is folded. Talk to your printer or mailer about your design.
Booklet Self-Mailers are produced from multiple sheets of paper which are usually saddle stitched at the fold. An 8-page booklet is comprised of 2 sheets printed front and back, folded in half, collated and saddle stitched. A 12-page booklet is 3 sheets, 16-pages is 4 sheets. As you increase the number of pages you will increase your costs, and potentially your postage should you exceed 3.3 ounces for Standard mail or 2 ounces for Presorted First Class.
Inserting a self-mailer into a clear poly envelope is a nice way to showcase artistic design and add visual impact.
This was just a simple overview. Talk to your printer about design ideas, options, and cost saving strategies. Request samples of various paper stocks and different types of mailpieces. Ask for a postage estimate. It is important you understand all the costs so you can be assured your project fits within your budget and meets your needs.