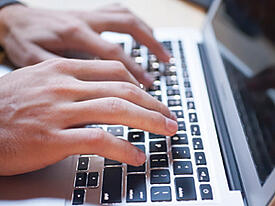 Are you familiar with the power of email? We consumers check our emails every day at work, home and on our mobile devices. How many times a day do you check your email? With using mobile devices to access email, I can imagine your answer to this question to be very high. Tomi Ahonen states that the average person stares at his/her phone 150 times per day. That works out to once every 6.5 minutes of every hour that the average person is awake. When checking emails from businesses, we can easily identify the emails that we find important to us from the ones we choose to delete instantly.
It is essential for companies to educate their contacts in an engaging way. Afterall, one of the most powerful marketing channels today, is email marketing. Our inboxes are filled with emails from businesses that are trying to grab our attention. When I open an email, I want to be fed with the exact information that I want/expect. I need to be entertained, not bored or irritated. As a consumer, I subscribe to emails from the companies that I feel I can't possibly live without. Yes, I am being extreme here, but that is the intention of a company's email marketing efforts, right? We are all digital buyers, and self-directed. Resources are everywhere on digital channels, and brand perceptions are developed instantly. As buyers, we have most likely already made our purchasing decisions before we are "face-to-face" with a company.
Let me share with you the 5 easy email marketing strategies your company should consider. Your company's email marketing should complement your other efforts, such as content, SEO, lead nurturing and social media engagement. After reading this post, I believe that you will be able to solve the common challenges of email marketing.

WE WILL LOOK AT THE SOLUTIONS OF THE TOP 5 CHALLENGES
Integrating email data with other data systems
Improving deliverability
Growing & retaining subscribers
Achieving measurable ROI
Using email for funnel optimization

INTEGRATION
It is very important to use integration to close the gap between email marketing and other data systems. "Other data systems" can include landing page conversions, social media activities, and customer acquisitions. By doing so, you will be closer to optimizing your sales funnel, while keeping your buyer persona in mind. When you develop content, your focus should be on an offer of your initial request. You will also need to understand how you can better target your customers with relevant email messages, speaking their language. Connecting email marketing with data systems will be beneficial when you want to look into SEO, lead generation, blogging and reporting.
DELIVERABILITY
The percentage of messages delivered to your recipients versus the total of messages sent, gives you a delivery rate. A sign of inactivity are emails that bounced back. A great way to improve your deliverability rate is to remove the contacts that are no longer engaged. You can adjust your opt-in process too. Ask people to enter their email into your form twice, to prevent invalid emails from adding to your email list. If a recipient changes their email address, they should have the option to update that information in your preference center.
SUBSCRIBERS
A serious challenge in email marketing is being able to grow and retain subscribers. You never want to purchase email lists because these recipients are most likely not interested in your content. They will unsubscribe or disengage in your emails. You need to earn your subscribers by creating clean, concise message that speaks their language. Be clear on the value that you are offering to them, or your emails will be clutter. Choose offers that appeal to your subscribers. Some common offers you may want to consider:
Tips and tools
Product Updates
Special offers & coupons
Industry Case Studies
Guides, eBooks & kits

MEASURABLE
This problem is due to the fact that you are not integrating your email marketing with other data systems. You need your marketing channels to speak to one another so that you can identify conversions. You can achieve measurable ROI (return on investment) from your email marketing campaigns through closed-loop marketing. Your focus needs to be on how your visitors became customers, and the steps they took throughout that process. What does that process look like? A contact starts as a visitor when they're on your website. That visitor then becomes engaged by browsing your web pages, blogs, and emails. If they find valuable information throughout the "browsing" stage, they will become a customer! You will be able to identify your most powerful marketing channel.
NURTURING
Lead Nurturing is a great way to pre-qualify an early stage lead before handing them off to your sales team. Knowing your company's buying process and the length of time it generally takes for a lead to make a purchasing decision is essential information. Lead nurturing will keep your leads educated and qualified over time. Lead nurturing is very easy to set up because it is automated and does not need a lot of maintenance.
Sources: TechCentral; HubSpot