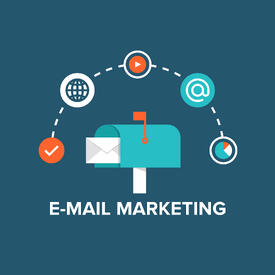 How many times a day do you check your email? Tomi Ahonen states that the average person stares at his/her phone 150 times per day. That works out to once every 6.5 minutes of every hour that the average person is awake. When checking emails from businesses, we can easily identify the emails that we find important to us from the ones we choose to delete instantly.
It is essential for companies to educate their contacts in an engaging way. As buyers, we have most likely already made our purchasing decisions before we are "face-to-face" with a company.
Let me share with you the 5 easy email marketing strategies your company should consider. After reading this post, I believe that you will be able to solve the common challenges of email marketing.
INTEGRATION
It is very important to use integration to close the gap between email marketing and other data systems. "Other data systems" can include landing page conversions, responses to direct mail offers, social media activities, and customer acquisitions. By doing so, you will be closer to optimizing your sales funnel, while keeping your buyer persona in mind. When you develop content, your focus should be on an offer of your initial request. You will also need to understand how you can better target your customers with relevant email messages, speaking their language.
DELIVERABILITY
The percentage of messages delivered to your recipients versus the total of messages sent, gives you a delivery rate. A sign of inactivity are emails that bounced back. A great way to improve your deliverability rate is to remove the contacts that are no longer engaged. You can adjust your opt-in process too. Ask people to enter their email into your form twice, to prevent invalid emails from adding to your email list.
SUBSCRIBERS
A serious challenge in email marketing is being able to grow and retain subscribers. You should think twice when considering purchasing an email list because these recipients are most likely not interested in your content. They will unsubscribe or disengage in your emails. You need to earn your subscribers by creating clean, concise message that speaks their language. Be clear on the value that you are offering to them, or your emails will be clutter. Choose offers that appeal to your subscribers. Some common offers you may want to consider:
Tips and tools
Product Updates
Special offers & coupons
Industry Case Studies
Guides, eBooks & kits
Also, always provide a clear, attention-grabbing email subject line.The Radicati Group reported that 1.9 billion non-spam emails are sent everyday. To break through this noise, you must develop a compelling email subject line that inspires your audience to click on and read your email. Remember, if you don't capture your target's attention in the subject line, they are never going to see any of the other parts of your five-star email strategy.
Here are a few guidelines to ensure your emails entice and satisfy your readers:
Address your readers concerns:

Put yourself in your audience's shoes and create emails to address their needs. What is interesting about your product and service from their perspective? The key to generating clickthroughs is answering questions that your prospects care about.
Personalize: Consider including readers' first names in your email subject line. According to Dan Zarella's Science of Email research, adding a name in the subject line significantly increases clickthrough rates.
Use actionable language: Use action words to inspire your readers to click. You want your action verbs to inspire your audience to immediately click on your email by instilling urgency and excitement for people reading your subject lines. For example, in an email inviting people to a hockey legend dinner, the email subject line should read, "Dine with Bruins legend Bobby Orr on Saturday", rather than a more generic "Local Boston Sports Legend Meal". The former email spells out a dinner that will happen on Saturday, and uses "Dine" to help the reader envision themselves at a dinner table.
Be explicit: Clearly spell out what the email contains. You want the reader to understand exactly what they will get when they open your email. For example, the subject line "[Free Collection] 10 Companies Rocking Direct Mail Formats that Deliver ROI" tells my reader exactly what they will get by downloading our collection. Similarly, if you are running a 20% off special, allude to that specific number in the first third of your subject line.

Deploy brevity:

Email subject lines will get cut off if they're too long, particularly on mobile devices. We recommend using subject lines with fewer than 50 characters to make sure readers scanning their emails will read the entire subject line.
Be consistent: Your email subject line is making a promise to your reader about what you will deliver in your message. Make sure that you make good on that commitment. Do not promise a 50% coupon in your subject line unless that coupon is prominently displayed in your email. Similarly, don't advertise 50% off if that discount only applies to a small segment of your products. A "bait and switch" email engenders too much distrust to be worthwhile. If they think they have been cheated by your subject lines, they will stop opening your emails which will lead to lower open-, clickthrough-, and conversion rates, as well as higher unsubscribes. No good.
Avoid SPAM triggers: Email spammers rely heavily on certain words to boost their open rates. Because of these dark hat practices, email providers employ special spam filters to keep out any emails containing certain words. Email marketers should be careful about using words like "Cash," "Quote," and "Save" to make sure they don't inadvertently get caught up by a spam trap.

A Few Email Spam Words to Avoid when making Offers (to view a more complete list of spam word traps visit the

blog article by Hubspot

that includes a full list of spam trigger words.)

Being a member

Call

Cannot be combined with

You are a winner!

Gift certificate

You have been

Note: Spam traps look at more than just subject lines to determine if they will deliver your email. For example, "Free" is a traditionally spammy subject line word, but you will notice we included it in our "10 Companies Rocking Direct Mail Formats that Deliver ROI" subject line example. Because we have a great sender reputation, and would send out the email from a legitimate person, including "free" in this line doesn't impact the email's deliverability. There are several tools you can use to test if your subject line will raise any red flags.

Actual person as the sender: The name you include in the "From" field of your email can have a huge impact on your overall open rates. A/B tests have shown that sending emails from an actual person increases both the open and clickthrough rates for email marketing efforts. People feel a more personal connection to your email when they receive it from "Ann Marie Keene" than they do from Company X, or worse, some version of "donotreply". You can even consider adding the sender's picture to the bottom of your emails, and signing off the email with their signature or nickname. Experiment with how to position your "from: sender". Watch your open rates to determine if people prefer someone they hear from frequently, or if your CEO nets more clicks. You may find that your best email open rates actually come from a combination of a person's name and company name, e.g., Ann Marie Keene, The John Roberts Company.
Personalize content: According to HubSpot's Science of Email research, personalized emails improve clickthrough rates by 14%. This is an easy win! Simply include a person's first name in your email greeting to net a double-digit boost in email clickthroughs. Developing personalized emails is a great way to gain a competitive advantage to your email marketing. With 72% of B2B firms reporting that a top priority for this year is to deliver highly relevant content, this is the time to employ personalization tactics and get ahead of the competition. Go beyond simply adding a first name to your email greetings, develop targeted content for each list segment. Delivering personalized email messages or specific offers based on your audience behaviors, interests, or buying stage is a terrific way to set your content apart. Just like a five-star restaurant would remember and cater to their top customers' preferences - for example whether you like red or white wine - you can use smart lists and dynamic email templates to deliver individualized content based on your contacts' form responses or past purchase history.
Appropriate segment: Your database most likely includes both customers and prospects - all whom are at varying stages of their buying cycles. When designing email experiences, pay attention to how you segment your list and align your email strategies to capitalize on your list's needs. Segmentation is extremely effective in boosting email performance metrics with 39% of email marketers who practice list segmentation see better open rates, while 27% have reduced opt-out and unsubscribe rates. If you are looking to start segementing your list, consider the following to begin your list parsing:

Demographic data:

Personal data such as geography, age, gender, job function, industry, seniority, etc. all offer insight on what kind of email content will be most interesting to your target audience.

Personas:

The best marketing strategies are built around detailed buyer persons that help inform their content development. Once you have defined your personas, use these targeted personas to design email content that appeals to your personas' distinct challenges and concerns.

Purchase history:

Any past purchase or browsing history can also help focus email sends to specific interests. Purchase history can be used to target thank you and cross-sell emails. In your secondary CTAs, recommend additional services or complementary products your audience might enjoy based on past purchases.
Lifecycle stage: Even if you don't have explicit personas, segment your list based on your customers' purchase cycles. Set up separate lead nurturing tracks for those at the top of your sales funnel, in the middle of your sales funnel, and at the bottom of the sales funnel. By providing information linked to questions your prospects face along their decision-making process, your content will better push your leads down the funnel, and ultimately close sales.
Value proposition and context. Adding a value proposition for your offer as the first sentence in your email copy is the best way to accomplish this.

Clearly highlight what email recipients will get from downloading your ebook, purchasing your product, etc.

Incorporate statistics to emphasize what problem your offer is solving.

Use visual elements that will improve your emails. For example, minimize page friction by keeping your emails clean of clutter and multiple messages. Prominently feature a button to download your offer. You should also add multiple links for your offer in the email content, in the event that your audience prefers clicking on hyperlinks. You can also add bullet points to break up the text and emphasize key takeaways.

Obvious, focused call-to-action: Your email should have a single conversion goal, whether it is to download an offer, sign up for a webinar or purchase a product. The call to action button is the link that triggers this action - so make sure that your call-to-action is prominently displayed in your email.
Social sharing button/links:These are great tools for expanding your email marketing and reaching potential leads.
Relevant image: Incorporating images is another tool to differentiate your email marketing. HubSpot's Science of Email Marketing research, revealed that 65% of people prefer emails with mostly images rather than text. People simply like pictures - probably because 90% of information transmitted to the brain is visual, and visuals are processed

60,000X faster in the brain than text






MEASURABLE
This problem is due to the fact that you are not integrating your email marketing with other data systems. You need your marketing channels to speak to one another so that you can identify conversions. You can achieve measurable ROI (return on investment) from your email marketing campaigns through closed-loop marketing. Your focus needs to be on how your visitors became customers, and the steps they took throughout that process. What does that process look like? A contact starts as a visitor when they're on your website. That visitor then becomes engaged by browsing your web pages, blogs, and emails. If they find valuable information throughout the "browsing" stage, they will become a customer! You will be able to identify your most powerful marketing channel.
NURTURING
Lead Nurturing is a great way to pre-qualify an early stage lead before handing them off to your sales team. Knowing your company's buying process and the length of time it generally takes for a lead to make a purchasing decision is essential information. Lead nurturing will keep your leads educated and qualified over time. Lead nurturing is very easy to set up because it is automated and does not need a lot of maintenance.
P.S. ALWAYS remember the only mandatory element in your email templates. You MUST add an unsubscribe link to the bottom of every email marketing message. CAN-SPAM regulations
Sources: TechCentral; HubSpot